I suspect that we would all welcome, if only for a moment, a reprieve from the madness that our nation has found itself immersed in because of inept and corrupt politicians. I am, therefore, taking the opportunity to change the subject….but just for a moment or two.
In lieu of today's solar flares:
"GEOMAGNETIC STORM WARNING:

A CME propelled toward Earth by yesterday's X5-class solar flare is expected to reach our planet on March 8th at 0625 UT (+/- 7 hr). Analysts at the Goddard Space Weather Lab, who prepared

t

he CME's forecast track

, say the impact could spark a strong geomagnetic storm. Sky watchers at all latitudes should be alert for auroras.

Aurora alerts:

text

,

phone

.
Mild geomagnetic activity is already

underway

following a lesser CME impact on March 7th. Shortly after the cloud arrived, a burst of Northern Lights appeared over the US-Canadian border. Shawn Malone photographed the display from the shores of Lake Superior:
Aurora over Lake Superior, Upper Peninsula of M..., posted with vodpod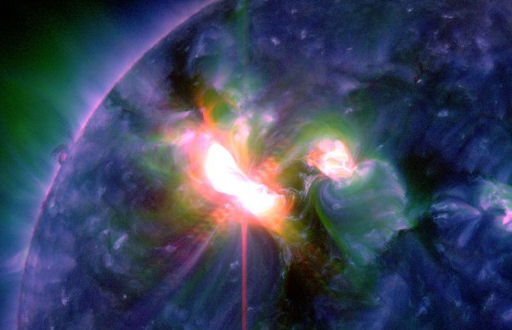 Above image:

"This eruption hurled a bright CME into space

,

shown here

in a movie from the Solar and Heliospheric Observatory. Analysts at the Goddard Space Weather Lab estimate that the CME will reach Earth on March 8th at 0625 UT (+/- 7 hr), possibly triggering a strong-to-severe geomagnetic storm. An

animated forecast track

shows the progression of the fast-moving cloud."
Courtesy of
Spaceweather.com
where there are plenty more goodies worth checking out.